When you're using Canva, there are a variety of images you can start off with to complete your own creative personalized image. You can use photos, which happens to be my favorite especially for quotes on social media. However there are times where a graphic catches my eye and I NEED to use it. Then I realize the one graphic I want is stuck with a bunch of other graphics on a sheet. Some stock websites like GraphicStock call them patterns. Basically it's one sheet that has multiple graphics on it. This is what a graphic or pattern sheet looks like:
Now if you're just learning about Canva and haven't taken a spin in Canva, you'll want to check out my beginner's tutorial first or Canva's tutorials to get the basics before reading on.
This is the problem – there is no eraser or brush to remove objects from Canva images. When you have a pattern sheet with multiple graphics, it's pretty much stuck there. Many people won't think twice about using them because it'll be too much trouble to correct. You'll have to use another software or application to remove the other objects in the image. Those are extra steps that just waste time and money.
Here are 3 Clever Steps To Use Multiple Graphic or Pattern Sheets in Canva (without ever going to a different app or software):
Resize
When you have a pattern sheet, the image that you want will most likely be small because of the other images on the sheet. To resize, pull at the resize elements shown in the example below. It will show when you click on the text box or graphic.
Okay, I know you're saying, "Hold up! That's a totally different color. What are you thinking?!" Take it easy… I'm getting to it in the next step.
Color
Match the background with the shapes. Now this part can be a bit tricky however a little patience and effort it will be worth it. You can change the color on the color palette to match the background by picking a similar color that you need and then using the slider. If the graphics were on a white background, you've got it made! Easy-breezy.
Remember the original pattern sheet I showed you with the black elegant floral graphics. I fell in love with it and I knew I had to use it. Here's a quick tutorial to show these steps in motion and a few other tips.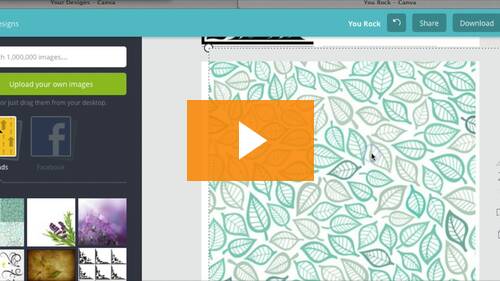 Some people may ask why I don't just clip the graphic needed and upload it to Canva. Check out the example below:
Notice the graphic on the right is pixelated? This is why doing it straight through Canva would be best.
I hope these steps were helpful to your graphic needs. If you find some awesome graphics that you want to use and find that it's on a pattern sheet I sure hope you give it a try.
If you have any similar tricks I'd love to hear about them. Let me know in the comments.
Take care,
Lillian De Jesus