Why would I do a training video on Canva when I say it's SO Easy?
The answer is: Learning style
Everyone has a unique way of learning. A person can be given an instruction manual however it still won't click in their brain. It's just not how they're wired.
With my experience in a non-profit organization in the certification exam field, I found that all testers had the same question. What can I study in order to the pass the exam?
That's the magic question, isn't it? Well… it's different for everyone. No 2 people learn exactly the same. One person learns well with just auditory instructions or one learns well with auditory and visual. Canva has their own tutorial but no audio. If you learn well kinesthetically then you're good to go.
Another reason that the training videos could work out for you is if learning something new is stressful to you. Maybe having your own business with lots of responsibilities, you feel that you don't have time to spend on images. Also a person may think that they're not creative enough to create images.
To learn more about your learning style, check out this quiz: http://www.howtolearn.com/learning-styles-quiz/
The quiz can help you to learn more about yourself and you can use it for your kids to learn about how they learn best. Pretty handy tool!
Check out this video below on Why In The World Did I Decide To Do Training on Canva. When you see me be sure to bring up the volume because I talk too softly. I learned from my mistake and the future videos will be much better, I PROMISE!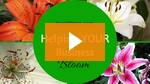 I am not by any means trying to be a Professor or Expert Instructor, I'm just a regular "Joe Shmoe" that wants to help people by encouraging them to learn business tools for their business or blog.
Please leave a comment on the video or here. I'd love your feedback. Also I've enabled sharing on the video so please SHARE away if you think it's useful info.
Until next time…
Take care,
Lillian De Jesus